Emerald Hollow Mine, April 4
April 4, 2020 @ 9:30 am

-

3:00 pm

EDT

$12 – $20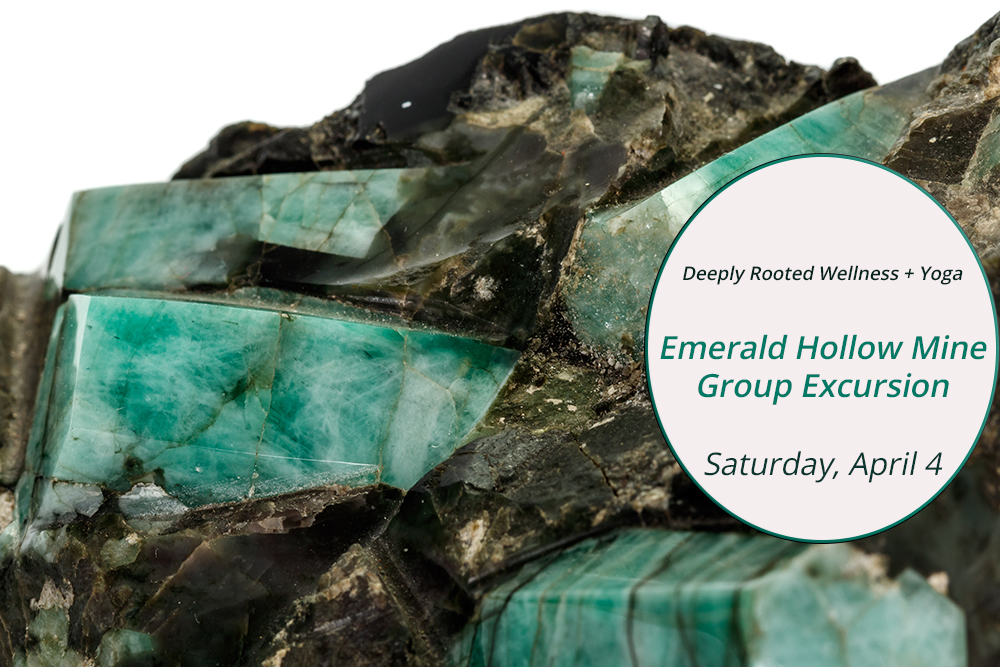 Experiences in nature are an evidence-based way to decrease the symptoms of stress and promote healing and restoration for both mind and body. Mining, creeking, and panning for your own crystals gives each you an opportunity to immerse yourself in the bounty of nature. That's why I'm excited to announce the first spring Deeply Rooted Wellness + Yoga event of 2020 will be a trip to Emerald Hollow Mine in Hiddenite, NC.
DRWY Mining Excursion at Emerald Hollow
Emerald Hollow Mine is known for its beryl, particularly emeralds. Prospectors can also find aquamarine, sapphire, garnet, topaz, amethyst, citrine, rutile, tourmaline, smoky and clear quartz crystals. As you may have guessed, this is also the only place in the world where you can find Hiddenite.
The group will meet at Emerald Hollow Mine at 9:30am. I will update the Facebook event with exact details of what I'm wearing and which vehicle I'm driving.
We will take a break around 11:30 am for a few gentle yoga stretches. We will be doing lots of bending, squatting and lifting. The stretches will focus on our back, hips, hamstrings, shoulders, and wrists.
Around noon, we will carpool The Yellow Deli. We can then return to mine to find more crystals.
We will likely stop around 2:30pm to clean up, change, and enjoy more yoga stretches before hitting the road back to Atlanta.
Group members are welcome to come and go as you please!
These plans are subject to change based on weather and the abundance of crystals at the site.
Pricing
Deeply Rooted Wellness + Yoga yoga sessions, activity participation, and car pooling are free of charge. The prices for activities at Emerald Hollow Mine are as follows: $12 per adult for creek panning and $20 per adults for a combo of creek panning and sluicing. Activity descriptions are in the link above. Trowels and sifting screens available for rent for $3. If you plan to bring your own digging tools, they must be plastic.
Please note that the mine is 278 miles from Atlanta, approximately 4 hr 30 min driving. I recommend getting a hotel in the area.
What to Bring
To enjoy your trip, there are a few items that you will want to bring along:
Water-resistant shoes
Dry shoes
Water-resistant gloves
portable seating or cushion
a container and newspaper to safeguard your crystals
clothes that you don't mind getting wet and dirty
a small brush or toothbrush for cleaning your crystals
Dress in layers, since the mornings in April are cool and may warm up by midday
On the day of the event, call 678.631.7808 for questions or help with directions.